Six Oregon schools make 'Green Colleges' list
By Mason Walker
New Media Manager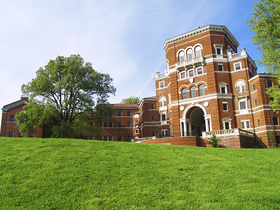 Oregon State University

Highlights for OSU mentioned in the Green Guide include electricity-generating elliptical machines, a commitment to local food in cafeterias and progress towards "climate neutrality" by 2025. Click through the gallery to see the six Oregon universities that made Princeton Review's Green Colleges guide.
Six Oregon universities have landed on Princeton Review's annual Guide to Green Colleges.
Presented in partnership with the U.S. Green Building Council, this year's Green Colleges list features 322 public and private colleges from the U.S. and Canada. The rating, based on a proprietary index, uses a scale between 60 and 99 to determine the top schools. The schools are not ranked by score once they make the list.
All six Oregon schools on this year's list have been named to the Green Colleges guide in past years.
---
Green schools: See which six Oregon unis made Princeton Review's Green Colleges list
---
The smallest school from Oregon named to the list was Linfield College, the McMinnville-based undergraduate university. The report noted Linfield's student-run efforts around conservation and sustainable food advocacy, as well as a campus focus on energy efficiency.
To see all the Oregon schools that made the list, including sustainability highlights called out in the report, click through the gallery above.
Comments
If you are commenting using a Facebook account, your profile information may be displayed with your comment depending on your privacy settings. By leaving the 'Post to Facebook' box selected, your comment will be published to your Facebook profile in addition to the space below.