SeQuential hits 20M gallons, partners with a Duck
By Mason Walker
New Media Manager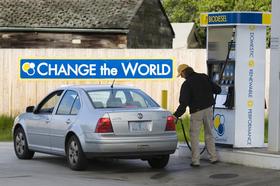 SeQuential has produced 20 million gallons of biodiesel since 2005.
SeQuential Pacific Biodiesel, a Salem-based commercial biofuel producer, has produced 20 million gallons of fuel in its eight years in business.
The milestone comes a few months after the company made a large push into the Seattle market, signing on partners including the University of Washington, Pike Place Market and Safeco Field. SeQuential collects and processes used cooking oil from restaurants and food facilities. It sells the processed biofuel to commercial fleets and biodiesel vehicle owners through its stations across the Northwest.
The company also announced a new partnership with the University of Oregon's athletic department, diverting cooking oil from various UO Ducks facilities. "We are excited to be working with SeQuential Pacific Biodiesel to ensure that the waste oil generated by our athletics concessions will be put to good use for the environment as well as for the community," said Craig Pintens, Senior Associate Athletic Director for Marketing & Public Relations at the university.
Production has steadily grown since SeQuential was founded in 2005: The company expects to hit six million gallons in 2013 alone, and now works with over 7,000 partnering restaurants and organizations.
SeQuential Pacific Biodiesel is a joint venture between SeQuential Biofuels of Oregon and Pacific Biodiesel of Hawaii.
Comments
If you are commenting using a Facebook account, your profile information may be displayed with your comment depending on your privacy settings. By leaving the 'Post to Facebook' box selected, your comment will be published to your Facebook profile in addition to the space below.