South Waterfront's infrastructure: It's only natural (Photos)
By Andy Giegerich
Digital Managing Editor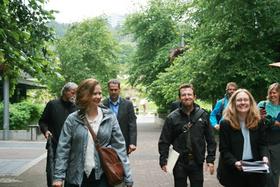 Enthusiasts of "natural infrastructure" took a tour around the developing South Waterfront neighborhood last week. Among the features they studied were riparian restoration efforts and permeable surface walkways. Click through for more natural infrastructure features in the Willamette riverfront neighborhood.
Portland's South Waterfront district is very much a work in progress, yet it already has a diverse array of structures and services.
OHSU's Center for Health and Healing attracts wellness-seeking patients from across the region. Researchers occupy offices there and will soon flood the under-construction Collaborative Life Sciences Center. OHSU's aerial tram zooms riders up and down Pill Hill to the Willamette River. Several apartment and condo towers rise above the district.
---
Natural steps: A look at South Waterfront's natural infrastructure touches
---
And the massive Zidell Yards development could soon add the one component — restaurants and other entertainment options — missing from the area.
As such, the South Waterfront neighborhood in which Portland planners have long coaxed activity needs a lot of innovative infrastructure. Because several environmental champions are working to grow the district, it makes sense that they're adding a new category of building science to the area: Advocates call it "natural infrastructure, and they maintain it's contributing to the district's array sustainable site development, water savings and energy efficiency.
Climate Solutions, which is based in Olympia and has a Portland office, recently issued a report on natural infrastructure that's drawing its share of attention. The report highlighted the work of Portland's Bureau of Environmental Services, among other factors, as a leader in the emerging field.
Click through on the photo above for a closer look at South Waterfront's natural infrastructure, detailed during a recent walking tour through the area.
Comments
If you are commenting using a Facebook account, your profile information may be displayed with your comment depending on your privacy settings. By leaving the 'Post to Facebook' box selected, your comment will be published to your Facebook profile in addition to the space below.