Grants could help data centers, server farms cool their jets
By Andy Giegerich
Digital Managing Editor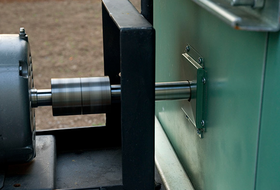 Gresham-based IT Aire aims to, with a system of different motors and other techniques, help cool down server farms and data centers.
The latest commercialization grant from three energy and economic development groups aims to boost energy efficiency practices at server farms and data rooms.
Energy Trust of Oregon, the Oregon Built Environment & Sustainable Technologies Center and the Portland Development Commission have chipped in a collective $115,000 to the city of Gresham to test a cooling system that could cut energy costs associated with cooling data rooms by as much as 70 percent.
Gresham startup IT Aire developed the system, which eliminates energy-intensive refrigeration compressors that are commonly found in computer room air conditioning units. The system instead uses indirect evaporative cooling, efficient fans, sensors and few moving parts that deliver 70 percent energy savings over other such units, company officials say.
Data rooms are considered a major driver of U.S. electrical grid power usage, along with digital tablets, smart phones and digital streaming, said David Neketin, IT Aire's owner.
The PDC gave the company $67,000 while Oregon BEST gave IT Aire $40,000. The Energy Trust of Oregon contributed another $8,250. The PDC funding comes from part of a $1 million Jobs and Innovation Accelerator Challenge grant received from a federal energy program.
The grant will fund testing and data analysis by Oregon State University's Energy Efficiency Center at the City of Gresham's data room.
"This funding comes at an ideal time because we have potential customers like Intel, Xerox and others who are very interested in our technology but want to see third-party test results from a real installation," Neketin said in a release. "We're confident our system can save the City of Gresham 75 percent of its data room cooling costs, and this grant will enable us to prove that and attract new customers."
Comments
If you are commenting using a Facebook account, your profile information may be displayed with your comment depending on your privacy settings. By leaving the 'Post to Facebook' box selected, your comment will be published to your Facebook profile in addition to the space below.