OpConnect's funding brings charge to Hawaii, jobs to Oregon
By Lee van der Voo
Contributing Reporter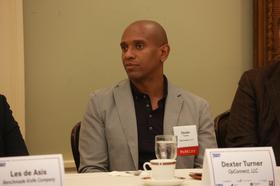 Dexter Turner's OpConnect is poised to help improve Hawaii's EV network and add jobs in its Portland headquarters.
Portland-based EV charging company OpConnect LLC has received $650,000 in new investments and loans aimed at growing the company's presence in Hawaii.
The windfall, though, will add jobs at its headquarters in Oregon and help Hawaii meet its green goals.
OpConnect received $350,000 from the Ulupono Initiative, a Hawaii-based investment firm that's focused on improving quality of life for Hawaiians by reducing waste and increasing the local food supply and renewable energy production. Murray Clay, Ulupono's managing partner, said in a statement the firm's investment in OpConnect was targeted to reduce Hawaii's dependence on imported oil and enable consumer confidence in EVs by reducing range anxiety.
Ulupono's investment will also allow OpConnect to meet its funding match and secure a $50,000 grant from Drive Oregon, awarded in July. The company also recently received a $250,000 loan from the Portland Development Commission.
The infusion of capital comes less than a year after OpConnect launched its innovative smartphone payment technology, freeing EV drivers from the FOB key and allowing quick payments through a smart phone app or OpConnect's charging station touchscreens.
OpConnect has since gone from a 25-station network in four states to a 270-station national network. About a third of those stations are located in Hawaii, where OpConnect now operates the largest network of charging stations on the islands after taking over Hawaii operations of Better Place in March.
OpConnect, led by CEO Dexter Turner, now plans to deploy this latest round of capital to convert the Better Place charge spots to new OpConnect Mark II stations this fall.
Comments
If you are commenting using a Facebook account, your profile information may be displayed with your comment depending on your privacy settings. By leaving the 'Post to Facebook' box selected, your comment will be published to your Facebook profile in addition to the space below.