Sending exports through the roof: SBA chief's high hopes for Columbia Green
By Andy Giegerich
Digital Managing Editor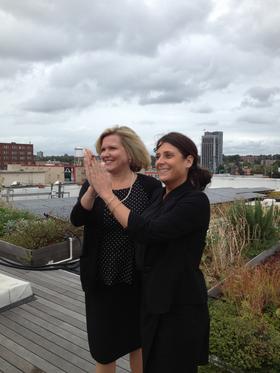 The SBA's Acting Administrator Jeanne Hulit (left) and Vanessa Keitges celebrate Columbia Green's success at a tour of the company's roof garden.
The nation's top small business official said Monday that a Portland company exemplifies the Obama Administration's commitment to boosting exports and nurturing green enterprises.
Jeanne Hulit, the Acting Administrator for the U.S. Small Business Administration, affirmed her message during a visit to Columbia Green Technologies' Southeast Portland's headquarters. Hulit is visiting several companies during a Northwest tour aimed at reinforcing the importance of exporting goods.
The SBA wants small businesses to tap such programs as the agency's U.S. Exports Assistance Centers.
"Small businesses represent almost 95 percent of all U.S. companies and 98 percent of all exports come from small businesses, but they only represent 34 percent of exporting revenue," Hulit said. "So there are lots of little companies, but they don't export, and the market's huge for them."
Columbia Green, which specializes in vegetative roofs, fits the bill of an exporting candidate in that it also works in a favored Obama sector.
"Sustainable companies in general, whether they're large or small businesses, are an important part of our economy and certainly an important part of our environment," Hulit said. "We're really impressed with what they're doing here at Columbia Green."
Columbia Green has exported its systems to such countries as Canada and the Philippines. About 30 percent of its revenue comes from exports.
The company's revenue has grown annually by 200 percent over the past several years. President and CEO Vanessa Keitges projected the figure will jump by 300 percent this year.
"This was in a down construction economy," Keitges told Hulit. "The green roof market, though, has grown over the years," jumping by 115 percent in 2011.
Comments
If you are commenting using a Facebook account, your profile information may be displayed with your comment depending on your privacy settings. By leaving the 'Post to Facebook' box selected, your comment will be published to your Facebook profile in addition to the space below.