'Tesla Tuesdays' aim to help Hasson move Portland's cribs
By Andy Giegerich
Digital Managing Editor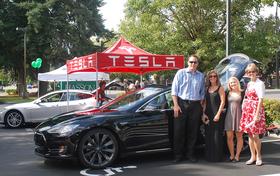 (From left): Rick Brainard, Jennifer Weinhart, Danielle Sies and Debi Laue, Realtors with the Hasson Company's Lake Oswego branch, are getting their Tesla on as they show homes to clients.
Tesla Mania has arrived within the high-end real estate world. The Hasson firm is offering Tesla Tuesdays, in which local brokers are using the tony EVs to cart would-be buyers around to new homes on the market.
Hasson's agents are using Tesla's Model S as they transport their clients to available homes. The service continues through Sept. 24.
Here's the company's description of Tesla Tuesday:
"Given Hasson's long history of service in the Pacific Northwest, the company is committed to the environmental and economic health of the community. Hasson's Green Team has made a commitment to their environmentally-conscious clientele by gaining extensive knowledge and education about sustainable living and green building. Tesla's Model S electric sedan offers Hasson agents style and sustainability in a car, a true extension of their office."
Tesla has become an "it" EV company, with its colorful leader Elon Musk hitting the Web to push everything from his "hyperloop" train-like system between San Francisco and Los Angeles as well as, not surprisingly, a rocket engine.
Comments
If you are commenting using a Facebook account, your profile information may be displayed with your comment depending on your privacy settings. By leaving the 'Post to Facebook' box selected, your comment will be published to your Facebook profile in addition to the space below.