Kitzhaber takes lead as governors form zero-emission car alliance
By Andy Giegerich
Digital Managing Editor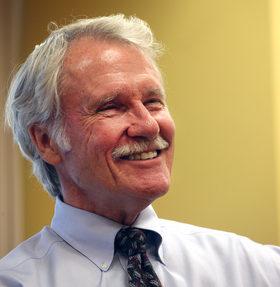 Cathy Cheney | Portland Business Journal
Gov. John Kitzhaber and seven of his cronies in other states have formed a group that'll support adding more zero-emission vehicles to the nation's roads.
Oregon Gov. John Kitzhaber has joined leaders from eight states in calling for 3.3 million zero-emission vehicles to hit the road within the next 12 years.
The eight states comprise nearly 25 percent of the American vehicle market. Oregon will participate in the program in an effort to reduce greenhouse gas emissions, enhance air quality and public health, save consumers money and urge economic growth.
"This initiative fulfills so many of Oregon's goals and will spur the kind of innovation that supports a healthy and vibrant economy," said Kitzhaber in a release. "Not only will it help reduce transportation-related air pollution and greenhouse gas emissions, it also enhances our state's energy diversity, gives Oregon consumers more options, and helps move Oregon's 10-Year Energy Action Plan forward."
The effort will apply to future passenger cars, trucks and transit buses.
Kitzhaber is joined by California Gov. Jerry Brown, New York Gov. Andrew Cuomo and the governors of Connecticut, Maryland, Massachusetts, Rhode Island and Vermont. The governors signed a cooperative agreement identifying specific actions to help build a national electric and hydrogen-powered car market.
To get there, they'll tweak building codes to make it easier for states to add electric car charging stations, call for public fleets to use zero-emission cars, create more EV incentives and develop standards for charging networks.
U.S. EV sales tripled, to nearly 52,000, between 2011 and 2012. Eight automakers now offer 16 zero-emission vehicles between them.
Comments
If you are commenting using a Facebook account, your profile information may be displayed with your comment depending on your privacy settings. By leaving the 'Post to Facebook' box selected, your comment will be published to your Facebook profile in addition to the space below.