OSU researcher: Climate change will decimate oceans by 2100
By Andy Giegerich
Digital Managing Editor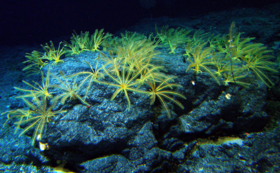 Deep sea hard substrate are among the areas that will be heavily impacted by climate change over the next 87 years, according to a report led by OSU researcher Andrew Thurbur. That's bad news for these Sea Lilys and other ocean inhabitants. Click through for a glimpse at other effects climate change could have on the world's oceans.
A new Oregon State University-led report issued Wednesday warns that climate change will destroy the world's oceans by 2100.
The study, co-written by Andrew Thurber, an OSU oceanographer, concludes that by the year 2100, about 98 percent of the oceans will be affected by acidification, warming temperatures, low oxygen or lack of biological productivity. What's more, "most areas will be stricken by a multitude of these stressors," Thurber said.
The changes will be triggered by "human-generated greenhouse gas emissions" that will affect marine habitats and organisms and will co-occur in areas heavily used by humans.
The study was backed by the Norwegian Research Council and Foundation through its support of the International Network for Scientific investigation of deep-sea ecosystems.
Thurber said 2 billion people will be affected by the changes.
"If we look on a global scale, between 400 million and 800 million people are both dependent on the ocean for their livelihood and also make less than $4,000 annually," Thurber said in a release. "Adapting to climate change is a costly endeavor, whether it is retooling a fishing fleet to target a changing fish stock, or moving to a new area or occupation."
The findings don't even take sea level rise, pollution, over-fishing and storm activity into account, added the post-doctoral fellow in OSU's College of Earth, Ocean and Atmospheric Sciences.
Thurber and three other researchers used global distribution maps of 32 marine habitats and biodiversity hotspots. Climate models laid over the hotspots delivered a range of outcomes, but each result suggested negative impacts of varying intensities from the four major stressors.
Comments
If you are commenting using a Facebook account, your profile information may be displayed with your comment depending on your privacy settings. By leaving the 'Post to Facebook' box selected, your comment will be published to your Facebook profile in addition to the space below.