REI data center improvements slash cooling costs by 90 percent
By Andy Giegerich
Digital Managing Editor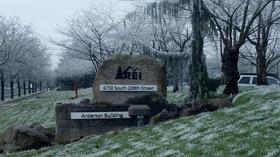 REI enlisted the energy experts CleaResult to reduce the costs of cooling its Kent, Wash. data center. CleaResult succeeded, and then some. Click through for a couple of shots showing some of the company's work within REI's facility.
A company with a strong Portland presence has helped a major retailer slash its energy use by dramatically updating its data center cooling systems.
That's no small achievement when the client is REI, the $2 billion Kent, Wash. outdoor gear and apparel seller that relies heavily on electronic transactions. Some 22 percent of REI's sales come via the online route.
"They told us they're very interested in becoming more environmentally friendly and that their data center had recently been identified as their single largest energy user in their entire company's complex," said Bill Gast, a senior energy efficiency engineer for CleaResult. "But because they're a large Internet retailer, they couldn't have any problems with the data center."
By revamping the center — the primary tool being CleaResult's evaporative cooling system — REI was able to slash its data center energy costs by 93 percent in the first year. The project costs paid for themselves during that first year.
And, the effort was completed with absolutely no downtime.
"They were very concerned that," Gast said. "If you think about the cost of bringing down their website for a day, that would have taken out all of their energy savings."
Evaporative cooling systems simply turn liquids into water vapors that cool a space. In so doing, it reduces the need to use refrigeration, which requires much more energy.
All told, REI's savings came to 1.7 million kilowatt hours a year, about 20 percent better than the parties had anticipated and the equivalent of removing 262 passenger vehicles from the road each year.
After a 2011 transaction Portland-based Fluid Market Strategies is a subsidiary of CLEAResult, which is headquartered in Austin, Texas. The company employs 120 workers in Portland.
Comments
If you are commenting using a Facebook account, your profile information may be displayed with your comment depending on your privacy settings. By leaving the 'Post to Facebook' box selected, your comment will be published to your Facebook profile in addition to the space below.