PSU's New Brew provides New Belgium and Hopworks formulas for success (Photos)
By Andy Giegerich
Digital Managing Editor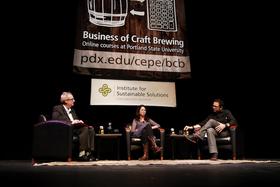 PSU's The New Brew event, a part of the school's Portland State of Mind series of programs, attracted some 220 beer industry types and craft brewing students Monday night. The event featured insights from New Belgium's Kim Jordan (middle) and Hopworks Urban Brewery's Christian Ettinger (right). Click through for scenes and takeaways from the event.
Even though New Belgium Brewing's Fort Collins, Colo. facility is a testament to clean operations, CEO Kim Jordan knows that there's more to sustainability than just protecting the environment.
---
The New Brew: Scenes from Portland State's beer-focused event
---
"It's groovy to have all these green systems, but a big part of being 'sustainable' is 'sustaining' jobs," said Jordan, speaking at Portland State University's The New Brew program Monday night.
Jordan and Hopworks Urban Brewery's Christian Ettinger weighed in on the business of sustainable brewing during a talk before about 220 PSU students and brewing community advocates. The duo wowed the audience with several nuggets.
For instance, Ettinger pointed out that it uses more carbon to ship beer to Los Angeles by truck than it does to ship it to Shanghai.
"There's a lot of low-hanging fruit that companies can grab to help become more sustainable," he pointed out. That includes simple tasks such as turning out lights in empty rooms along with monitoring energy and water use whenever possible.
Jordan shared insights into New Belgium's employee-owned operations as well as the company's 32-state distribution process.
The full program, presented as part of PSU's Portland State of Mind program, will be available on PSU's website.
PSU's Institute for Sustainable Solutions and School of Business Administration, which oversees the school's brewing certificate program, presented the program.
Click through on the picture above for more scenes and insights from the event.
Comments
If you are commenting using a Facebook account, your profile information may be displayed with your comment depending on your privacy settings. By leaving the 'Post to Facebook' box selected, your comment will be published to your Facebook profile in addition to the space below.