Little Boxes enters third year of imploring Portlanders to shop locally
By Andy Giegerich
Digital Managing Editor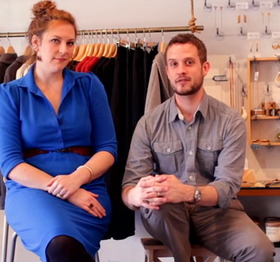 Betsy Cross (left) and Will Cervarich started the Little Boxes program three years ago.
Portland's small businesses are again banding together to encourage consumers to shop locally and buy goods produced in the area.
The Little Boxes campaign is expected to count more than 200 retailers citywide. Shoppers can use an iPhone app to determine which stores are participating in the event, which roughly serves as an answer to Black Friday.
Some of last year's participating retailers reported sales that were as much as 62 percent higher than same-day annual sales. The events feature raffles of locally produced and sold items.
The event is in its third year. Its backers include the Venture Portland group and City Commissioner Nick Fish, who's appearing at betsy & iya jewelry on Northwest Thurman Street Tuesday at 11 a.m. to tout Little Boxes. That store's founders Will Cervarich and Betsy Cross started the Little Boxes program.
The Little Boxes campaign takes place Nov. 29 and Nov. 30. Shoppers at the stores will collect 10 percent discounts on each of their purchases.
"Shopping at a Little Box store keeps money in our community, and supports the neighborhood small businesses that are the backbone of our economy," said Fish.
Comments
If you are commenting using a Facebook account, your profile information may be displayed with your comment depending on your privacy settings. By leaving the 'Post to Facebook' box selected, your comment will be published to your Facebook profile in addition to the space below.