Major automakers add clout to Oregon's EV market dreams
By Andy Giegerich
Digital Managing Editor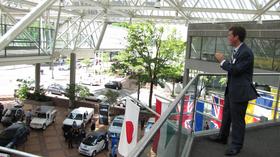 Drive Oregon Executive Director Jeff Allen rallies the crowd at the EV Roadmap 6 event last July. Allen is co-chair the Energize Oregon Coalition, which just enlisted Ford and GM as it attempts to ramp up the number of EVs in Oregon.
Oregon's electric vehicle proponents have enlisted several heavy-hitting auto world partners in their push to add more plug-in cars to the state's roadways.
The Energize Oregon Coalition last week welcomed representatives from Ford, General Motors, Honda and Nissan. The automakers joined the Oregon Department of Transportation and Drive Oregon in the nascent organization, which formed earlier this year.
The Meyer Memorial Trust gave the coalition $40,000 this month.
"We're hoping to get more automakers on that list soon," said Jeff Allen, Drive Oregon's executive director. "We're talking to the others. The four we're working with are helping us do that. They're engaged and they're excited to have our help on this.
"We don't make cars here, but we make a lot of stuff that goes into cars" such as metals and cable harnesses.
Allen and Ashley Horvat, of the Oregon Department of Transportation, are co-chairing the group, which aims to, simply, "expand electric vehicle sales and use in the state."
"Oregon has been at the forefront of the energizing the EV market," said Erik Gottfried, Nissan's director of electric vehicle sales and marketing. "Leadership at the state and local levels has made Oregon one of the best markets for Nissan LEAF sales, and we look forward to being an active supporter of the Energize Oregon Coalition to build on that success."
Allen said the group wants to get more electric cars on the road in a faster fashion.
"That's the bottom line, everything else flows from that," he said. "We want to make sure Oregon maintains its leadership in this space and make sure we're building out the charging infrastructure we need and remove regulatory barriers or other stumbling blocks that slow things down."
Oregon is one of the nation's top eight markets for electric vehicles.
Comments
If you are commenting using a Facebook account, your profile information may be displayed with your comment depending on your privacy settings. By leaving the 'Post to Facebook' box selected, your comment will be published to your Facebook profile in addition to the space below.