New Seasons set to buy California's New Leaf Community Markets
By Wendy Culverwell
Staff Reporter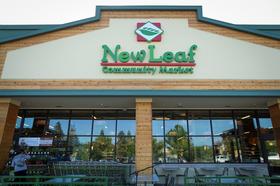 Rebecca Stark Photography
Portland-based New Seasons Market is acquiring New Leaf Community Markets, an eight-store chain based in Santa Cruz, Calif. The deal marries the only two grocery-oriented certified B-Corporations in the world.
New Seasons Market is acquiring the like-minded California-based grocery chain New Leaf Community Markets.
Santa Cruz, Calif.,-based New Leaf, with eight stores, will become a wholly owned subsidiary of New Seasons, which has 13 stores and counting.
The cash and equity deal is expected to close this week.
Terms were not released but New Leaf is a privately held company led by founder Scott Roseman. Roseman will join the New Seasons Market board of directors while continuing to operate the company in Santa Cruz with his partners, Rex Stewart, general manager, and Kimberly Hallinan, CFO.
Beyond the similarity of their names, the two firms are the only groceries to earn B-Corp status, reflecting their commitments to their communities, employees and partners — New Seasons earned the designation in June and New Leaf in October. Both contribute 10 percent of their after-tax profits to charity and both operate stores of varying sizes — from about 15,000 square feet up to 40,000.
The acquisition also continues an expansion spree for New Seasons that began in January when Wendy Collie succeeded Lisa Sedlar as president and CEO. The company entered development agreements to open stores in three new retail developments — two in Portland and one in Tualatin — in 2014 and 2015.
New Seasons and New Leaf will operate independently to start but will look for opportunities to build on their similarities moving forward, Collie said.
"I have been calling it 'smart scale,'" Collie said.
As New Seasons and New Leaf come together, they will take advantage of opportunities to leverage relationships, extend opportunities to their farmer and vendor partners as well as the staff.
Comments
If you are commenting using a Facebook account, your profile information may be displayed with your comment depending on your privacy settings. By leaving the 'Post to Facebook' box selected, your comment will be published to your Facebook profile in addition to the space below.