Oregon businesses lining up to become state's first benefit companies
By Lee van der Voo
Contributing Reporter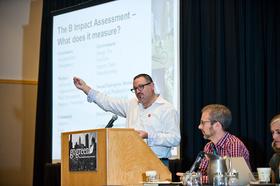 Eric Friedenwald-Fishman is helping lead a charge for Oregon businesses to register as benefit companies on Jan. 2.
In an effort to earn props for a state many green-leaning companies already call home, 15 businesses have their sights set on registering as benefit companies in Oregon Jan. 2.
That's the first official day a new law allowing benefit companies in the state takes effect. Business leaders behind the effort say their aim is to top other states in which similar laws have been enacted. That is, other states with such rules have registered 14 or 15 benefit companies on the first day those laws took effect.
"Our rationale there is we think when entrepreneurs in Oregon hear about this and know about it, there are many of them that will want to explore and do it," said Eric Friedenwald-Fishman, founder of the long-time B Corp and social-change agency Metropolitan Group, and an architect of the new law.
Beginning Jan. 1, Oregon will begin allowing both new LLCs and corporations to register as benefit companies. Existing companies can also amend their articles of incorporation to include a benefit company purpose. Those amended rules can create a general public benefit, or other specific benefit.
The legal designation is unique from laws in other states in that it allows both LLCs and corporations to register. Separate from third-party certification programs that verify B Corps perform to certain standards, the legal designation is intended to bolster the legal footing of companies that want to operate with positive social and environmental outcomes in mind.
Otherwise, corporations face legal challenges from stakeholders who can charge a breach of fiduciary duty when economic outcomes don't top management priorities. The benefit company designation allows greater flexibility to companies that want to flip that paradigm and function with social or economic priorities out ahead of earnings, or both.
Comments
If you are commenting using a Facebook account, your profile information may be displayed with your comment depending on your privacy settings. By leaving the 'Post to Facebook' box selected, your comment will be published to your Facebook profile in addition to the space below.