CRAiLAR gets IKEA, Adidas investments and commitments
By Andy Giegerich
Digital Managing Editor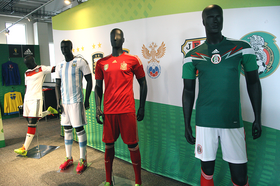 Cathy Cheney | Portland Business Journal
Adidas and IKEA will supply money to CRAiLAR Technologies Inc. as the company aims to increase its flax reach.
Portland's foremost flax fiber supplier says it has reached two agreements — one with IKEA, one with Adidas — that will bring it a collective $5 million.
CRAiLAR Technologies Inc. revealed Thursday it has reached a $3.2 million financing agreement with IKEA. The deal accompanied word that CRAiLAR inked a general supply agreement with the Swedish retailing giant as well.
The money comes in the form of a 30-month 1.9 percent fixed rate loan. CRAiLAR will pour the capital into its European production facility as well as working capital for IKEA orders.
CRAiLAR further grabbed a $2 million private placement from Hydra Ventures B.V., which is the Adidas Group's corporate venture arm.
Hydra will essentially buy up to 3.3 million units of Crailer for 60 cents apiece.
"As a global leader in the advancement of sustainability and sports performance, we believe that our relationship with such an iconic sports company will help deliver a CRAiLAR brand and product message to some of the most loyal consumers on the planet," said Ken Barker, CRAiLAR's CEO, in a release.
Barker, a former Adidas executive, also noted that IKEA is the world's largest home furnishings retailer.
His company uses a technology that removes the binding agents from rough fibers such as flax and hemp to make it more like cotton.
Comments
If you are commenting using a Facebook account, your profile information may be displayed with your comment depending on your privacy settings. By leaving the 'Post to Facebook' box selected, your comment will be published to your Facebook profile in addition to the space below.