DOE to invest up to $226M in nuclear startup NuScale Power
By Andy Giegerich
Digital Managing Editor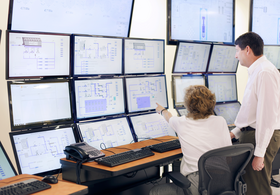 NuScale Power has received a massive — up to $226 million — federal government funding round to develop its small modular reactor technology.
NuScale collected the full second round of the U.S. Department of Energy's small modular reactor program funds. The DOE grant calls for NuScale to provide matching money and lasts for five years.
"We're super-excited: This is a huge day for us and a huge day for Oregon," said Mike McGough, NuScale's chief commercial officer. McGough said the company will look to its majority investor Fluor Corp. (NYSE: FLR) as well as a few select investment options to raise its share.
"Fluor is providing money to us for now, but we have an additional line of investing parties that have wanted to participate in funding the company," McGough said. "We're not eager to do that. We think our company has a high value, and we're not going to pick just anybody as an investor. There are only a few people who are strategically ready to do this."
NuScale had put in for the funds in July after unsuccessfully seeking $50 million in DOE funds for its SMR work earlier this year.
"Small modular reactors represent a new generation of safe, reliable, low-carbon nuclear energy technology and provide a strong opportunity for America to lead this emerging global industry," said Energy Secretary Ernest Moniz in a release. "The Energy Department is committed to strengthening nuclear energy's continuing important role in America's low carbon future, and new technologies like small modular reactors will help ensure our continued leadership in the safe, secure and efficient use of nuclear power worldwide."
Comments
If you are commenting using a Facebook account, your profile information may be displayed with your comment depending on your privacy settings. By leaving the 'Post to Facebook' box selected, your comment will be published to your Facebook profile in addition to the space below.