Utility advocate could assume huge Portland water management role
By Andy Giegerich
Digital Managing Editor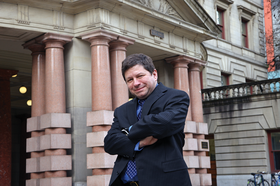 Cathy Cheney | Portland Business Journal
Portland City Commissioner Steve Novick is co-sponsoring a measure that would give the Citizens Utility Board strong input into the way the city's Water and Environment Services bureaus operate.
Portland's City Council will tackle a measure that would give the Citizens' Utility Board of Oregon a big say over the way two city bureaus are managed.
The move would allow the Board to provide "outside, independent analysis of the operations and budgeting" of Portland's Water Bureau and the Bureau of Environmental Services. The latter bureau oversees sewer services.
The Citizens Utility Board generally works with customers who use private utility service providers, such as those who provide gas, electrical and telecommunications regulated by the Oregon Public Utility Commission. This would be an unusual foray for CUB in that the group would provide guidance on a municipal level.
CUB's looking to hire a staffer to work on the city in the spring pending the measure's passage by Portland's City Council. Commissioners will begin considering the measure Jan. 8.
CUB would remain unpaid by the city in order to maintain its independence, said City Commissioner Nick Fish, who's co-sponsoring the measure with Commissioner Steve Novick. Fish said the city will promote the partnership and ask Portland customers to consider joining the CUB.
Fish oversees Portland's Water Bureau and the Bureau of Environmental Services.
The Board was created by Oregon voters through a 1984 ballot initiative passed in 1984. The group says it has saved ratepayers, primarily in the residential realm, $5.8 billion in rate reductions, refunds and rebates.
"We are gratified at the opportunity to take on this new role on behalf of Portland's water and sewer customers," said Bob Jenks, CUB's executive director, in a release. "We look forward to working with the staff of the Portland Water Bureau and the Bureau of Environmental Services to explore ways to serve customers better and keep rates under control over the long-term."
Comments
If you are commenting using a Facebook account, your profile information may be displayed with your comment depending on your privacy settings. By leaving the 'Post to Facebook' box selected, your comment will be published to your Facebook profile in addition to the space below.